Algamant Liquid Diamond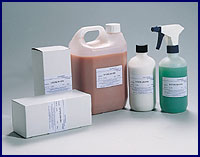 Producing precision flat components to a superfine finish, using a flat lapping process, can only be achieved by the use of Diamond liquids / slurries / Slurry and Suspension / Suspensions that are manufactured using only the finest available raw materials.

Algamant Liquid Diamond Slurries product from Algasan not only use the finest available raw materials but are manufactured using high quality green and user friendly chemicles. They come in a range of formulae: Oil, Water, Emulsion or Suspensions, each supplied in a concentration manufactured to suit specific precision lapping applications.

By maintaining a constant performance control, and using the highest quality raw materials from positively authenticated sources, Algamant Diamond liquids / slurries guarantee cost effective consistent results time after time.

To aid efficiency and uphold economy, Algamant liquids / slurries are available in 400g and 2000g containers. By producing liquids / slurries in two container sizes, Algasan's customers achieve both economical and contamination free usage.

All liquid / slurries types are available in grades from 1/10 to 45 micron and are respectively referred to as Type EB, Type OB, Type WB and Type SP Suspension.

It is recommended that Algamant liquid and slurry products be used in conjunction with Algalube purpose made extenders and lubricants.


*

*

*

*

*

*

*

*

*

3

*

*

*

6

*

*

*

8

*

*

*

14

*

*

*

25

*

*

*

45

*

*

*
For more information on our range of Diamond Compounds and Pastes either contact us by e-mail via the "Contact us" page or telephone John Broad on +44 (0)1732-824829.