Algamant Diamond Compounds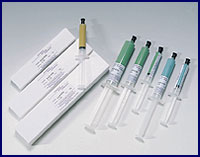 Toolroom metallographic and other precision production applications such as mould tool polishing call for a rapid stock removal and a superfine finish. This can only be achieved by using a Diamond compounds that uses the finest available raw materials.

By maintaining a constant performance control, Algasan International ensures that their Algamant Diamond compounds are manufactured using the highest quality raw materials from positively authenticated sources. This means and ensures that our compounds are of the highest quality, which guarantees consistent results time after time.

Algamant Diamond Compounds are ideally suited for producing a high precision finish in most applications. This versatility is achieved through three principal compounds.
Algamant GP Diamond abrasive compound - formulated to be an all-purpose product.
Algamant OS Diamond abrasive compound - specifically formulated for high pressure / temperature applications.
Algamant WS Diamond compound - traditional water soluble compound for those who prefer to use water based products.
To aid efficiency and uphold economy, Algamant pastes are available in 5g, 10g and 20g syringes. By producing Algamant pastes in varying syringe sizes the end user can achieve both economical and contamination free usage can be achieved.

Larger syringes and pots are available on request.

For extended life and removal of Algamant Diamond compounds, during and after the finishing process, it is recommenced that our Algalube and Algacleanse range of products are used.
*

*

*

*

*

*

*

*

*

3

*

*

*

6

*

*

*

8

Red

*

*

*

14

*

*

*

25

*

*

*

45

*

*

*

60

*

*

*

90

*

*

*


For more information on our range of Diamond Compounds and Pastes either contact us by e-mail via the "Contact us" page or telephone John Broad on +44 (0)1732-824829.